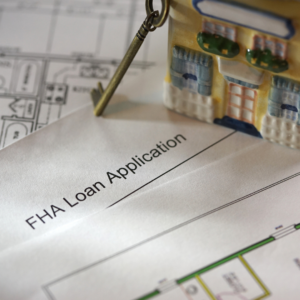 A Federal Housing Administration (FHA) loan is a government-backed mortgage that is provided by an FHA-approved lender. It can be used when a buyer doesn't qualify for a conventional mortgage, VA loan, or USDA loan due to a possible lower credit score. If the credit score is lower than 580, the buyer can borrow up to 96.5% with a required down payment of 3.5%. Loans are only available for individuals with a credit score of at least 500, but those with a lower credit score will have a down payment of 10%. These down payments can be paid from savings, help from a family member or a grant for down payment assistance. This loan option allows buyers with lower incomes to be able to put down less money while they work on their credit.
Including needing a credit score of at least 500, there are a few other requirements needed before obtaining an FHA loan. Lenders will look at the borrower's payment history to prior debts and will reject those who fall behind on loan payments or income tax payments unless a repayment plan is in place. Foreclosure and bankruptcy will also put a buyer in a compromising position as well. Typically, to qualify for an FHA loan, at least 2 or 3 years must have passed since the bankruptcy or foreclosure had happened. Steady employment and income must be shown to obtain the loan as well. This can be proven with tax returns, a current balance sheet, and profit-and-loss statement.
An FHA loan can be issued through a bank or other lender that is approved by the FHA. The maximum amount that can be borrowed can vary by region. To be eligible for a full FHA loan, the borrower must successfully complete a trial of payment plans. There are three scheduled payments that must be paid on time, but start at a lower, modified amount.
FHA loans can be an advantage for borrowers that are unable to obtain loans from other lenders. Having a lower credit score or having a higher debt-to-income ratio may still allow you to qualify for this loan. They do, however, come with a chance of high interest rates and require Private Mortgage Insurance (PMI), which is 1.75% of the base loan. Not all properties can qualify for this loan either; only manufactured homes, fixer-uppers, condos, and mixed-use properties. Single family houses can use this loan, but it must be their first house. Borrowers cannot use this loan on a second home or property investment. FHA loans are also less flexible and have loan limits.